Just like you did before: Watch the videos, create your own project, send it to me using the form at the bottom… 🌲 that's the short version!
If you want to watch the previous videos again:
Week 1, My Dream Garden
Week 2, Day and Night
Week 3, The Food Chase
Week 4, The Amazing Maze
Now that you have been using Scratch for a few weeks, it's time for your final project!
Use what you learnt over the last few weeks. And add to it!
Create an animation, record your own sounds, re-use your coding from your maze, throw in a chase game – and anything else you can think of.
Watch the video above for an introduction to this week's theme.
See below for a summary of what you should create this week!
Once again, you might want to work along, pausing the video when you think you're ready to try yourself.
Open up a new tab in your browser for Scratch (there's a video here which shows you how to do that), and try out what you have just seen!
My own Scratch project is also on this page – scroll down a bit and you'll see it.
Video 1: Some more graphics tips & tricks!
So…how are you getting ready for a talking head animation? Here's how!
Video 2: Animating the talking head – and adding your own voice!
If you can't record your voice, don't worry – see Video 3 for an alternative.
Video 3: What if you cannot use voice recorder? Text to Speech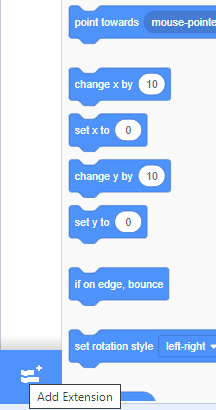 At the very bottom of the Scratch screen, on the left, is where you can find the "Extensions" – and one of them is "Text to Speech" – watch this video to see how to use it!
Video 4: Adding the maze
Video 5: Reusing Code: The backpack brings in the arrow keys coding
Video 6: Add a door to the next level.
Video 7: Fetch what you need: A mini game
This is very much like the chasing game we created in Week 3!
Video 8: Finishing Touches
My own final Scratch project for this course…
Click on the Scratchlogo to open it in Scratch, or watch it here on this page.
I hope yours will be very different!
A summary of what you should create this week
The theme this week is: Putting it all together!
Use as much as you can from the things covered during this course and create your biggest, boldest, bestest project yet.
And most importantly: Have fun!
Two videos that might be helpful:
How to get most out of this page
A bit about the videos, how to open a new tab so you can easily go to Scratch and back again, and tips how to fill in the form at the bottom (hint: Best done at least once every week!)
Scratch Studios & Following Other Users
Week 5 ends next Saturday with a wrap-up video. See you here, I hope!
Sabine, creative computing classes Skerries
And if the form does not work for you, send me an email to info@cccSkerries.com
Previous Weeks:
Week 1, My Dream Garden
Week 2, Day and Night
Week 3, The Food Chase
Week 4, The Amazing Maze
The Contact Form – open until the end of July.