This is a longer version of the article submitted to SkeriesNews for their 21 April 2017 edition.
So you're thinking about that summer holiday, as you would, this time of year. South of France maybe. Or Italy. Spain beckons. Or that city tour to Germany you've been promising yourself? Finally make it to Russia, see the Kremlin for yourself? You could probably get by with English there, but wouldn't it be more fun to be able to understand and speak the lingo a bit?
Indeed it would, and there is an easy (and free!) way to prepare yourself for the linguistic challenge – in just 5 minutes a day! 
Sounds too good to be true? That's what I thought, too – until I came across Duolingo!
Duolingo (/ˌdjuːoʊˈlɪŋɡoʊ/ dew-oh-ling-goh) is a free language-learning platform that includes a language-learning website and app, as well as a digital language proficiency assessment exam. Duolingo offers all its language courses free of charge. As of November 2016, the language-learning website and app offer 68 different language courses across 23 languages, with 22 additional courses in development. The app is available on iOS, Android and Windows 8 and 10 platforms with about 150 million registered users across the world. [Wikipedia]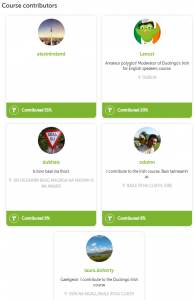 The 150 million registered users include our son, 16; myself, my husband, and my mother (80). 3 of the 4 use it daily, to learn German, English, and Spanish. And we love it!
It all started with our son coming across it on the internet. He surprised us by saying random sentences in a foreign language (Polish, as it happens)… As I was trying to revive my Spanish (a quick ¡hola! to my weekly conversation group in Café Jaques with fantastic María Ángeles of Alouette Language School here), I signed up as well. And I was hooked!
Fun and easy
Duolingo is fun. Quick, easy to learn, consistent short practices will make a big difference, and they make it fun: The exercises are very user-friendly, plus you get badges and points and flames for "streaks" (i.e. doing at least 5 minutes daily)… Try it for yourself! It works on smartphones, tablets, and on the PC.
You can start from the very beginning, or take a
5-minute test (for instance if you do Irish and already have a good basic command of the language). And then you work your way through lessons that take you from basic greetings, food-related words and phrases, colours, and animals to more complex areas, like arts, culture, and politics (at the advanced level of the Duolingo learning tree).
Listen to native speakers
Listening, speaking, reading, writing – all these are covered in Duolingo in a surprisingly effective way. You can listen to all phrases, and some exercises ask you to type in what you are hearing. Using your device's microphone, you repeat words and sentences, and the system recognises if you say them more or less correctly (it's quite forgiving, and I found being asked to say things out loud a huge bonus). There are grammar explanations inside the lessons, too – if you want to go deeper.
Learn at any age
I'd say children as young as seven or eight would enjoy using the Duolingo app (for instance to prepare for a holiday, or if their family is from France, Poland, Estonia etc., to improve their competency in reading and writing their "other" language).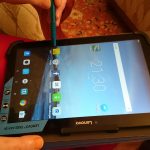 And I'm very proud to say that my mother, who is 80, started Duolingo for improving her already very good English when she was visiting us last Christmas – and she also took up Spanish from scratch, in preparation for our trip to Cuba over Easter! Right now, she has reached Level 16 and has a massive 100 Day Streak – which means: 100 days of doing at least 5 minutes of Duolingo. Impressive, isn't it? And yes, she is using her tablet for that!
Personally, I've added French to my daily bit of Spanish because I'll be going to be part of the annual international Scratch Coding conference in Bordeaux in July, and I'd like to be able to order a coffee (or du vin indeed) en Français!
Over to you – what languages might you learn, and why? Let Sabine know at Sabine@cccSkerries.com!
Sabine McKenna is a digital educator. Among other things, she runs weekly courses and summer camps for children with creative computing classes Skerries aka cccSkerries.com
Duolingo and other useful apps and websites will feature in the "Computer Skills for School and Life" summer camp. For a full list of summer camps, please see cccSkerries.com/summer
Sabine's next Techie Column is going to look at internet safety for young people. She would love to hear from you on the subject: Sabine@cccSkerries.com