How to pay online for cccSkerries courses (and other recurring costs)
Are you tired of having to root for that cheque book, or cash?
Do you want some track record of what you're paying for your son or daughter's activities?
Then set those who run the classes up for electronic payments – and pay online from the comfort of your PC or even your smartphone!
In order to set up a payee from your account, all you need is online access to your own account, and the payee's IBAN and BIC – in the case of cccSkerries, the relevant details (as updated & correct in March 2017) are:
Creative Computing Courses Limited, Bank of Ireland Skerries
BIC BOFIIE2DXXX
IBAN IE47BOFI90354125230144
I'm showing you here how it works with the AIB. Bank of Ireland is similar!
1.    Go to your Online Banking and log in.
2.    Click on "Pay & Transfer"
3.    Click on Payees to set up a new payee
Then select A new payee
4.    Enter the details
You choose what you call the receiver (does not have to be the name in which their account is). It could be "P's computer teacher" – or "cccSkerries"!
For cccSkerries, the details are:
IBAN: IE83 BOFI 9008 9346 3793 00
BIC: BOFIIE2D
5.  Confirm the details
You will be asked to get a code from your card reader.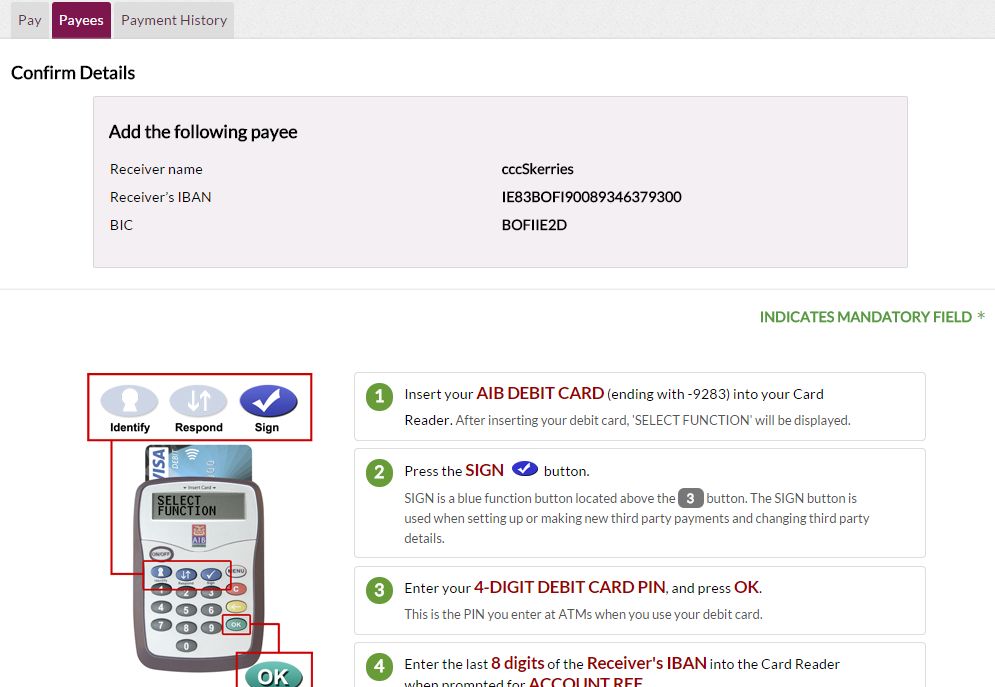 And now: You're ready to transfer money straight away!
Select Pay & Transfer – To Another Irish Account.

"Saved Details" is preselected, click "next" and make your payment.
Select the payee = receiver (e.g. cccSkerries), add a message, specify the amount – you will be asked one digit of your online PIN, nothing else. No more card reader needed! The money goes straight away on its merry way.
It's easy to pay from your phone, too.
Bye-bye, cheques & cash!
Another advantage: You always know what you've paid, and when.
Plus it's cheaper than cheques (and cash, if you consider how much you pay each time you take money out of the hole in the wall)…
I for one will try to pay all my son's classes online from now on!
Sabine